Garden ecoShed is another name for an 'EconoSpace'.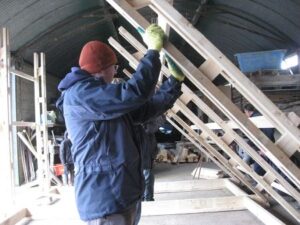 There are 2 LIVE Workshops scheduled for the summer of 2022: June 4/5th & July 30th/31st.  These will be held at the Organic Centre in north Leitrim
The 2-day format will include an option to camp at the Organic Centre.
These planned Workshops offer anyone keen on creating their own ecoShed an ideal opportunity to evolve a design suited to their needs. If you are interested in attending either of these Workshops, or just interested in going it alone,  you can get your design underway using these Workshop Handouts and supporting videos below. These formed the basis of previous Workshop presentations.
Detailed construction drawings for 25, 10sqm & 10sqmPlus GardenecoSheds/EconoSpaces have been developed at the LAC and these form part of the EconoSpaceMaking Course material*. An octagonal version of the 25sqm EconoSpace is currently being developed along with the 5sqm Mini-EconoSpace, construction details of which will be made available on completion of this work.
* The EconoSpaceMaking Course material consists of a comprehensive Manual detailing design procedures, Working Drawings, construction methodology videos and so on.  The material can be made available on application to the LAC using the Contact Form, putting 'Econo' in the subject line.