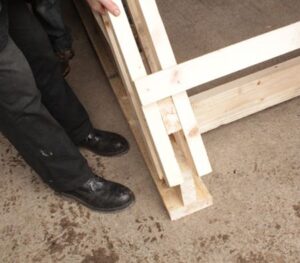 The simple timber framing system which I have developed has as its key element what I call 'the peter post'. This simple, lightweight and adaptable post provides the means of creating versatile, strong, stable and adaptable 3D eco-building structures when used in conjunction with even simpler floor and roof beams. The demands of constructing such a structure are such that even the most construction-shy person can confidently tackle into the creation of one.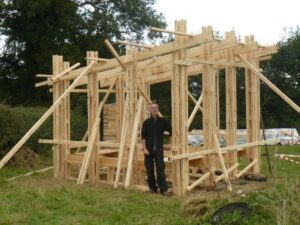 Peter-post structures facilitate easy jointing – a key aspect of building construction, particularly for inexperienced self-builders. They are also versatile, allowing for differing depths and thicknesses of insulation material to be incorporated into them as well as facilitating the attachment of a wide range to wall and roof cladding to them and the easy insertion of door and window frames. A further advantage of these structures is that they incorporate a suspended timber floor thereby avoiding the need to have a concrete slab. Apart from their use in 'full size' structures mini peter-posts can be used to make tables, beds, storage units, cubby houses, play structures and so on. The only limit is one's imagination!
The components of a peter-post structure can be constructed in a variety of locations – a garage, a workshop, a garden even – and, because they are lightweight, they can be easily managed by a person working alone. They can be transported easily too, allowing components to be constructed in one location and transported to another with relative ease.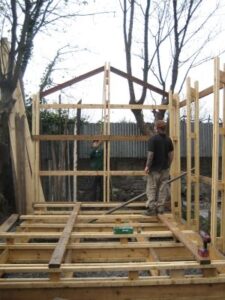 An EconoSpace/Garden ecoShed frame, being a relatively light structure, does not need elaborate foundations. A simple dressed stone base will be sufficient to provide the necessary support. Once a frame frame is erected on this it can quickly be roofed thereby providing a versatile weatherproof workspace facilitating the on-going work.
There are drawings, videos and a comprehensive Manual available to those wishing to construct their own EconoSpace/Garden ecoSheds of 10 or 25sqm. The Manual details all aspects of the 'living' architecture design procedure as well as being keyed into the drawings and construction videos.  Use the Contact Form to get in touch putting 'Econo' in the subject line.